2017 Shows
2016 Shows
2015 Shows
2014 Events
2013 Shows

2012 Shows

2011 Shows



2010 Shows

2009 Shows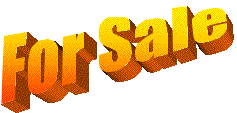 Isobel 2010 Sipke
Sport Ster Mare

Wendee 2015 Sape filly



2017 was an interesting show year, because we showed 2 mares in 8 events and at 3 of those events, the mares competed aginst each other--Isobel with trainer, Suzy Stafford, and Sjaantje with me. Isobel was put into training with the goal of presenting her to the Dutch judges to be upgraded from a 2e to a 1e ster mare and exposing her to the various types of carriage pleasure driving: CDEs, CTs, pleasure shows, and breed shows.
Our 2016 show year proved to be one that couldn't be much better: after taking a 2-year break from the show ring for motherhood, Sjaantje traveled up and down the East Coast and across the Midwest, claiming a multitude of regional and national titles in both USEF and ADS competitions along the way.
2015 turned out to be Isobel Ypkje van het Kasteel's event year on her way to achieving her Friesian Driving Predicate Sport title and keuring star status.
With Sjaantje and Lillee in foal, we did not attend shows in 2014, but we did attend the Harrisburg, PA Horse Expo and the FHANA keuring in Coatesville.
Under the auspices of trainer Suzy Stafford 2013 found us focusing on driving accomplishments with the Lexington, VA, September FHANA keuring and October IFSHA World and National Show as the grand finales of our show season.
In 2012 for the 2nd year in a row international champion whip, Suzy Stafford, trained Sjaantje, focusing on the International FEI # 9 advanced level driven dressage test. Those tests and their scores earned Sjaantje her KFPS/FHANA driving predicate "Sport" title. Suzy also taught me to drive driven dressage!
2011 saw us teaming up with world class CDE driver, Suzy Stafford, who agreed to give me a weekly driving lesson with Sjaantje, as well as train 6 YO Sjaantje for her driving IBOP test and for the October IFSHA World Championships driving classes.
In 2010 Thomas & I did our own show circuit with Sjaantje, where I soon learned it was I who needed training, and in 2011 I started taking weekly driving lessons from international champion driver, Suzy Stafford.
For 2009 I made the leap to what I call "big time" showing, taking 4 YO Sjaantje to a trainer who took us to various shows and with the experiences and fun we had, as well as our successes, became hooked on showing our Friesians.
When I got my first Friesian, I had absolutely no plans to show, but once I had Heidie going under saddle, realized it was my responsibility to the breed to share her beauty, so after a 33 year absence from southern California show rings, I joined a local riding club, Twin Brooks Saddle Club, here in central PA, and entered a few classes there.
Show ribbons and trophies won by Dreams Come True Farm Friesians, as well as show photos add splashes of color throughout my home.




Gail smiles as she displays Sjaantje's Championship Ribbons from the 2012 IFSHA Region 2 show.


Photo by trainer, Suzy Stafford


3 YO Fancee, ridden by Brook Sweigart, 2012 Keystone Classic w/t English Champion

photo by

Cove Creek Photography

Sjaantje &

Suzy Stafford

's Elk Creek FEI #9 dressage test salute--the beginning of her driving predicate title quest

Photo by Linda Gallo
Sjaantje Sport, winning training level dressage
at the Ohio CDE--our first CDE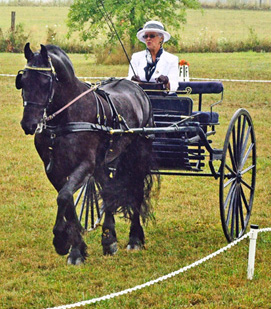 photo by
Reuss Griffiths Equine Photograph
y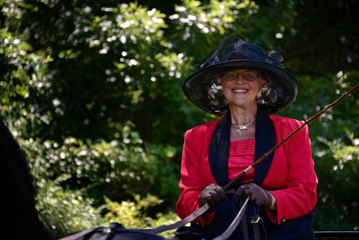 Showing at Morven Park, VA