Elk Creek CDE


Fair Hill, MD
June 6-7, 2015



1st

- Driven Dressage Advanced Test - 75.1%


1st -

Cones



Combined Test Champion



Driven by trainer, Suzy Stafford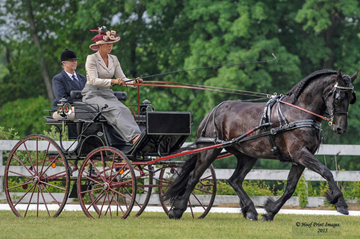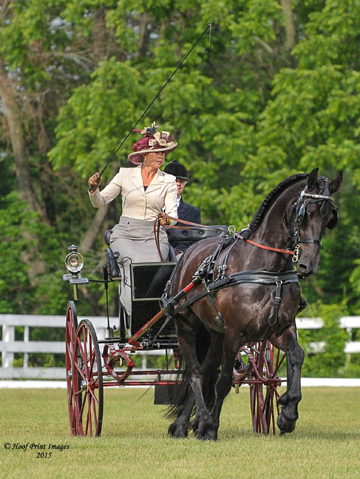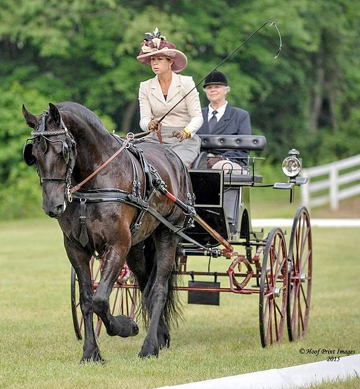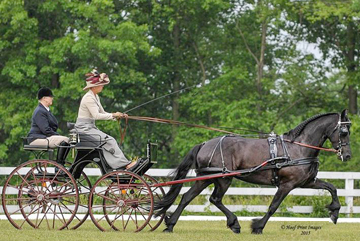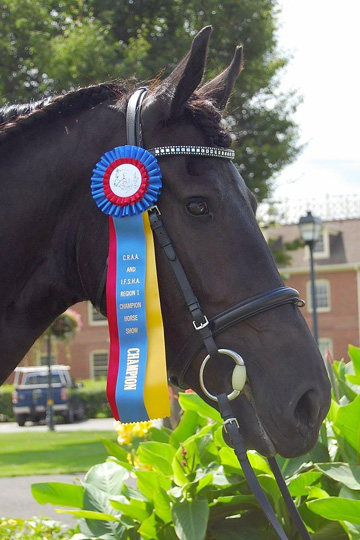 Isobel was purchased as a 2 YO to become a DCTF Friesian broodmare, so our goal for her was the ster predicate. That she far exceeded that goal by also earning her driving Sport Predicate is testament to her performance ability.
When Isobel went to FL to begin her 2015 IBOP training with
Suzy Stafford
, she had the opportunity to participate in an ADS Driven Dressage event and earned a 66.2% on the Advanced FEI CAI3* HP driven dressage test, earning 1 of the required FHANA 10 points towards the Driving Predicate Sport title. In June her 78.8% score on the same test at the Elk Creek CDE, earned her 3 of the required points, and in September, during a 2 day ADS Driven Dressage Event at the O'Rourke Farm, earned another 6 of the required points with scores of 76.6% and 75.8%, giving her a total of 11 points, securing her Sport title on September 2, more than 2 weeks before her adult keuring!
At the Coatesville keuring, driven by Suzy Stafford, Isobel's 78 score on the driving IBOP was the highest score of the FHANA circuit to win the 2015 Dream Gait Driving IBOP Cup and when presented in hand, she earned her ster: goal met!
CRAA Summer Spectacular


IFSHA Region 1 Championships


West Springfield, MA
August 27-30, 2015

Driven by trainer, Suzy Stafford:



1st

- Carriage Pleasure Driving Working Open


1st

- Carriage Pleasure Driving Turnout


1st

- Carriage Pleasure Driving Reinsmanship


1st

- Carriage Pleasure Driving Obstacles Open


1st

- Carriage Pleasure Driving Sport Horse Open

Driven by Emily Langer:



1st

- Carriage Pleasure Driving Working Amateur


1st

- Carriage Pleasure Driving Sport Horse Amateur


2nd- In Hand Mares 6 & under


1st

- Sport Horse in Hand Mares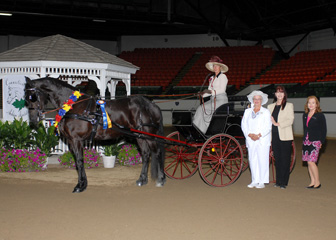 VERMONT SPRING CLASSIC


The Big E, Horseheads, NY
June 18-20, 2015



1st

- Preliminary Carriage Horse Dressage-Test 1


1st

- Preliminary Carriage Horse Dressage-Test 2


1st

- Preliminary Carriage Horse Dressage-Test 3


1st

- Preliminary Carriage Horse Dressage-Test 4


4th

- Carriage Pleasure Driving Working-Open


3rd

Carriage Pleasure Driving Reinsmanship-Open


1st -

Carriage Pleasure Driving Pick Your Route-Open

Reserve Champion Carriage Pleasure Driving

Driven by trainer, Suzy Stafford

This was a Morgan show with an open
to any Breed Carriage Pleasure Driving Division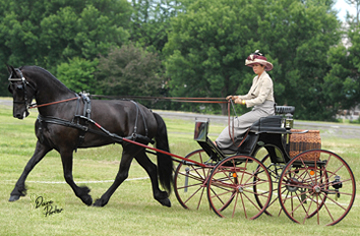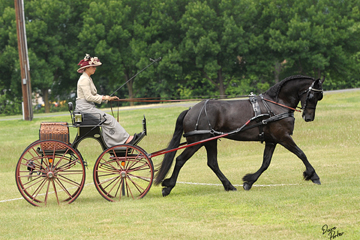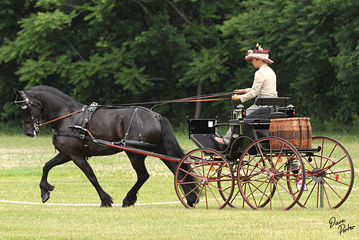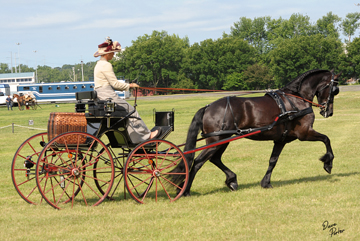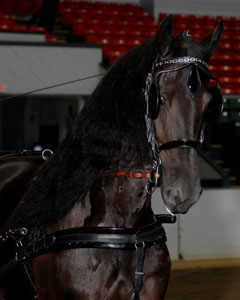 STRIDE Dressage Schooling Show


Florida Horse Park, Ocala, FL
March 1, 2015



1st

- Carriage Dressage Preliminary Test 2 - 81.3%


1st

- Carriage Dressage Intermediate Test 3 80.2%


2nd

- Cones W-T-C 30 cm

Driven by trainer, Suzy Stafford

Citrus Cup Regional Championship


Newbury, FL
April 8-11, 2015



2nd

- Carriage Dressage Preliminary Test 2 Open


1st

- Carriage Dressage Intermediate Test 3 Open

Driven by trainer, Suzy Stafford