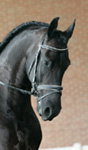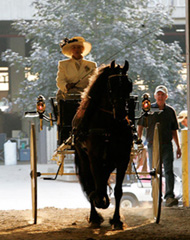 Scroll down for class placings
& links show photos

With our plans for Dreams Come True Farm's 6 YO Friesian Tsjerk mare, Sjaantje, to perform a driven IBOP test this year and myself to perform better in my driving classes, I needed a trainer within driving distance who would work with both Sjaantje and myself. International CDE Champion, Suzy Stafford of Stafford Carriage Driving, was up for the task and the perfect choice for the job. The new experiences, opportunities, and adventures that Suzy chose for us resulted in Sjaantje's becoming the 2011 USEF's Friesian Driving Horse of the Year! Thomas and I will go to Cincinnati, OH, January 12, 2012 to accept that highly acclaimed honor--I'm so excited I could fly there w/o an airplane;-)
Our first 2011 public appearance was at the Harrisburg PA Horse Expo February 24-27th where we participated daily in the Friesian Parade of Breeds demonstration, as an example of a driving Friesian. While at the expo, Sjaantje participated in Julio Mendoza and Jane Savoie dressage clinics, ridden by her rider, Jodi Van Sprang.
For our first 2011 show in March we traveled to Crescendo Training Centre in Ephrata, PA for a schooling show, where Sjaantje, ridden by Jodi, performed her first dressage test, ridden by Jodi's daughter, Angie, her first leadline class, and driven by myself, her first cones class.
May 28, 2011 we took our Teade yearling, Fancee, and Sjaantje to the 2nd Mid-Atlantic Friesian Horse Classic held at Frying Pan Park in Herndon, VA. Our girls did us proud, and besides a ton of ribbons, Sjaantje came home with 3 of the 4 Championship Awards that day AND the High Point Horse. June 3rd we drove to Greensboro, PA for the 2nd Annual Northeast Feathered Horse Classic on June 4--we won our first costume class, riding side saddle.
August 6-7 found us returning for the 3rd time to the Ohio Valley Friesian Horse Classic in Columbus, OH during the Ohio State Fair, where I successfully defended my 2010 reinsmanship title and won our first Concors d'elegance with Bobbi Jo's Carriage Machine Shop Bird-in-Hand spindle backed gig. Jodi and Sjaantje won the large Intro A dressage class. From Ohio we drove directly to Rochester, NY for the Walnut Hill Pleasure Driving Show, where Suzy competed in the gig division, and I drove in the Friday night Gig Turnout class, but our most memorable event there was the Presentation Drive. So much fun having an audience of well wishers, partying and cheering us on along the 2.5 mile drive to the park, where I had a class of champagne because I was not driving.
September 28 found us at Dressage at Devon, where Sjaantje was shown in the Friesian Breed class by Bruce & Staci Griffin of Griffin Sport Horses, Gretna, VA. Competition was again very stiff with 11 entries and Iron Spring Farm winning 6 of the top 10 ribbons, so I am thrilled with Sjaantje's 3rd place ribbon, sandwiched between 4 ISF Friesians and 2 places above model mare, Toltsje fan't Boekehof.
The Virginia Horse Center, Lexington, VA hosted the October 5-9 IFSHA World & National Championships, where Sjaantje not only earned 3 national and 3 reserve national driving titles, but also was named the show high point driving horse, winning the Anita Mellot Perpetual trophy. Suzy and I couldn't be more proud of Sjaantje's performances with us as whips.
Our final 2011 show was another schooling show at Crescendo Training Centre in Ephrata, PA. There Jodi and Sjaantje had a blue and a red in their dressage tests, and I had a blue, a red, and a yellow in our driving classes, where I am becoming more proficient in cones.