Welcome to Dreams Come True Farm's Website

"Dreams Come True Farm"
211 W Middlesex Dr.
Carlisle, PA, 17013 USA
717-372-2650


Sjaantje, Sport, Crown as a foal

Because 2016 was such a phenominal show year for DCTF, in 2017 Thomas and I have been traveling to Lexington, KY, to accept our recognition honors: in January, we attended the USEF annual meeting and 2016 Awards banquets, where both Sjaantje and I received Pegasus trophies for horse of honor and carriage driving. In March we returned to KY for FHANA's annual meeting and awards banquet, where I was recognized as their 2016 Performance Driver and Dreams Come True Farm was honored with FHANA's 2016 President's Award. On May 21, we will travel to North Salem, NY, to participate in Sjaantje's induction into the
Equus Foundation's
Horse Star Hall of Fame
. Sjaantje's not the only Friesian there, but she is the only Friesian mare!
Click here for the rest of Sjaantje's 2016 end of year accolades:

Back on the show circuit in 2016, Sjaantje claimed a multitude of regional and national titles in both USEF and ADS competitions, as she, owner, Gail Aumiller, and trainer,
Suzy Stafford
, traveled up and down the East Coast and across the Midwest. They wintered in Ocala, FL, returned to PA in April, and concluded their show season October 5-9 at IFSHA's World Championship and Grand Nationals held in the Champion Center, Springfield, OH. What a year it has been! Although our showing was confined to carriage pleasure driving classes, our 15 shows included a schooling show, 5 IFSHA Regional Championship shows, the IFSHA World Championships, and ADS shows that included a Horse Driving Trial, a Super Derby, Combined Tests, and Pleasure Driving Shows.
Sjaantje, 2016 USEF, IFSHA, & FHANA end of year awards

(more)


Gail, 2016 USEF & FHANA end of year awards

(more)
2017 Event Schedule

Sjaantje's 2016 Show Results & Photos
Sjaantje, 9 times 2016 IFSHA World Champion



"Carriage Pleasure Driving World Champion"
Whip, Suzy Stafford

DCTF 2016 Highlights
Sjaantje, Sport


USEF IFSHA Regions 2, 4, & 5 Carriage Driving Champion
USEF IFSHA Regions 1 & 3 Carriage Driving Reserve Champion
IFSHA 9 World Championship Carriage Driving Titles
IFSHA 3 World Reserve Championship Carriage Driving Titles
IFSHA World & Grand National Show high point horse, high point driving horse, & high point driven dressage horse awards
Won 15 of 16 Driven Dressage Training and Preliminary Level Classes
STRIDE Training Level Champion and Preliminary Level Reserve Champion
Jubilee of Breeds Carriage Pleasure Driving Champion
Southern Baroque Classic won all 3 Driven Dressage classes (74%s)
Citrus Cup won both Driven Dressage classes (78% & 79%)
Orelton Farm: won both CT & SD, & Pleasure Show Concours d'Elegance
Walnut Hill: Fancy Dress, Old Guard wins; Reserve Champion Ladies Wicker
KFPS/FHANA Keuring 1st Premium "1e"




Isobel 7 times 2015 CRAA
"Carriage Pleasure Driving Champion"
Whip, Suzy Stafford


DCTF 2015 Highlights
Sjaantje Sport foaled March 28: filly Wendee (Sape X Tsjerk)
Lillee DCTF foaled April 13: colt Winston (Lolke X Sape)
Isobel Ypkje van Het Kasteel had a 78.8% in the FEI #9 driven dressage test at the Elk Creek CDE in June
Isobel undefeated in her 7 driving classes at the IFSHA Region 1 CRAA Championship show
Isobel became Sport when she

earned 11 of the required 10 points for her KFPS/FHANA Driving Sport Predicate Title on September 2, 2015!


Isobel became "Ster" at the FHANA Iron Spring Farm Keuring on September 17 and her Driving IBOP 78 score was the highest on the North American circuit for her to win the Dream Gait Driving IBOP Cup!
DCTF 2013 National Accolades
On October 1, 2013 eight YO Friesian Ster Tsjerk mare, Sjaantje Sport, became a Crown mare after scoring an 81.5, the highest FHANA Driving IBOP score to win the Dream Gail Driving IBOP Cup, and earning a 1st Premium!


Gail was named the 2013 Friesian Horse Association of North America Performance Driver for the third consecutive year.

Sjaantje was USEF's 2013 Friesian Carriage Driving Horse of the Year
Sjaantje was IFSHA's 2013 Friesian Carriage Driving Horse of the Year
Sjaantje was IFSHA's ADS 2013 Friesian Open Pleasure Driving Single Hitch HOTY
Sjaantje was IFSHA's ADS Friesian Open Combined Driving Event Single HOTY
Sjaantje was the 2013 Devon Country Fair Single Horse Champion with whip,
Suzy Stafford

Sjaantje and Gail's USEF 2016
Horse & Equestrian of the Year
Pegasus Trophies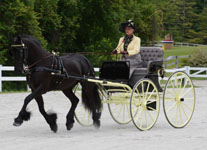 2016 Orleton Farm, MA, Pleasure Show
Sjaantje's Concors d'Elegance Turnout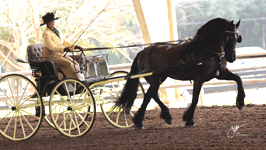 Sjaantje and Gail show their carriage pleasure driving form that won 6 of their 7 classes at the Florida 2016 Jubilee of Breeds Show



Sjaantje's 2016 IFSHA World's
3 high point trophies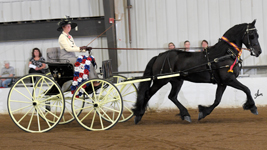 Sjaantje and Suzy Stafford take their World Champion Carriage Pleasure Driving Concours d"Elegance victory lap at the 2016 IFSHA World and Grand National Championship Show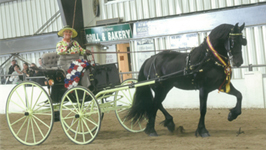 Gail's 2016 IFSHA World Champion Carriage Driving Reinsmanship Victory Lap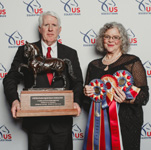 Thomas holding Sjaantje's USEF 2016
Grand Champion Carriage Driving Perpetual Trophy Gail holding Sjaantje's USEF 2016 National (Friesian Driving & Driven Dressage) & Reserve (Pleasure Driving) Championship Ribbons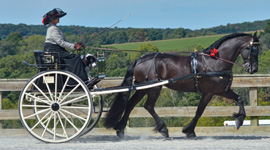 MLMDC 2013 "Carriage Dog," Brodie
with Sjaantje and Gail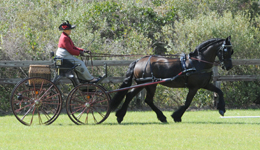 Sjaantje and Gail: Black Prong Driven Dressage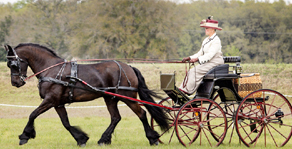 Sjaantje and Gail: Florida Citrus Cup
Friesians for Sale
2014 Sape x Ritse filly (ster dam)
SOLD
2015 Sape x Tsjerk filly (crown dam)

Isobel Ypkje van het Kasteel, arrived 11-14-12



Isobel & whip Suzy Stafford winning the Dream Gait IBOP Cup at her 2015 Keuring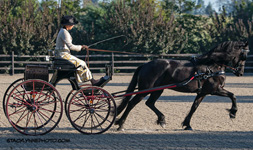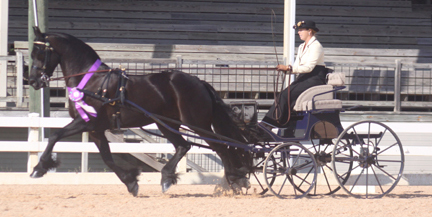 At the October 1, 2013 Lexington, VA, KFPS/FHANA keuring, Sjaantje Sport, driven by Suzy Stafford, had the highest Driving IBOP score, an 81.5, in North America, earning her the 2013 Dream Gait Friesians Driving Cup Award." When shown in-hand, she was upgraded to a 1st premium (1e), then as Sjaantje and I started to leave the arena, I was told to remain there, because there was yet another award for us. I was stunned when they made the announcement that she was now a Crown mare! I shed tears of joy three times that day: for her fabulous IBOP score, for her 1e premium, and for her Crown title! Our journey that started in 2009 has finally ended: Sjaantje Sport is a first premie KFPS/FHANA Friesan!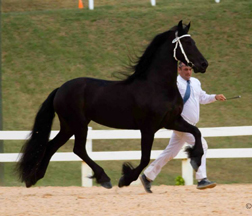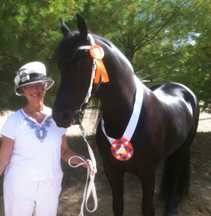 "Dreams Come True Farm" is a privately owned barn and residence purchased in the fall of 2002. We raise and train FPS/FHANA Dutch registered Friesians, which are for sale. Conveniently located a few miles from I-81's Exit 52 and the Carlisle exit 226 of the PA Turnpike, the property now has a lovely completely remodeled modern home, a fabulous barn with a camera monitored foaling stall, an attached indoor riding ring with rubber footing, 2 outside grass footing arenas with one being a 40 X 80m driving arena, lots of lush pastures with run-in sheds and automatic waterers, and a hacking/driving path through the woods and around the property perimeter. With Thomas' help, my dreams come true!
I have discovered the kindness and warmth of the Friesian horse, buying a yearling in 2003 and in 2005 a 3 in 1 package from the Netherlands as a retirement present and project. Our first foals, an Ait colt and a Teade filly arrived in 2006. In 2007 Santa brought me a fabulously well-bred Goffert full-papered filly and in 2012 an even better bred Sipke filly. In March our ster broodmare, Isobel, will have a Norbert foal.
2009 brought many new and wonderful Friesian experiences with our entering the Friesian show world, traveling to VA, OH, and MO with some of our young horses, and proud of Sjaantje who earned 3 World and 2 National Champion Titles that year. Our evolving breeding and training operation has expanded to boarding, always have a horse on the market, and now enjoy taking a horse or two to a show.
In 2010 Thomas & I ventured onto the show circuit with Sjaantje and sometimes taking yearling, Fancee. What an adventure and learning experience--I looked at each show as being a vacation with horses;-) In 2011 after teaming up with Suzy Stafford, we started to blow the Friesian driving world away--won National Driving Championships and Sjaantje was the 2011 & 2013 USEF high point Friesian driving HOTY. In 2012 Suzy put a FPS/FHANA driving predicate title on Sjaantje by earning 10 points from advanced level FEI #9 dressage tests, and in 2013 Suzy put a Crown mare title on Sjaantje by achieving an 81.5 score on the Driving IBOP test. In 2014 Isobel earned her Sport title, had a 78 IBOP score to win the Dream Gait Driving IBOP Cup, and earned her keuring "Ster," and is currently in foal to Norbert.
Having retired from teaching in 2005, I am now able to live my dream 24/7 and give our 4 Friesian horses the time they need and deserve!