"Dreams Come True Farm" is a privately owned barn and residence purchased in the fall of 2002. We raise and train FPS/FHANA Dutch registered Friesians, which are for sale. Conveniently located a few miles from I-81's Exit 52 and the Carlisle exit 226 of the PA Turnpike, the property now has a lovely completely remodeled modern home, a fabulous barn with a camera monitored foaling stall, an attached indoor riding ring with rubber footing, an outside arena with grass footing, lots of lush pastures with run-in sheds and automatic waterers, and a hacking/driving path through the woods and around the property perimeter. With Thomas' help, my dreams come true!
I have discovered the kindness and warmth of the Friesian horse, buying a yearling in 2003 and in 2005 a 3 in 1 package from the Netherlands as a retirement present and project. Our first foals, an Ait colt and a Teade filly arrived in 2006. In 2007 Santa brought me a fabulously well-bred Goffert full-papered filly, and we had a Teade colt out of our Ster mare, who has since had Teade fillies in both 2008 and 2009, in 2010 an Erik colt, and in 2011 a Sape filly.
2009 brought many new and wonderful Friesian experiences with our entering the Friesian show world, traveling to VA, OH, and MO with some of our young horses, and proud of Sjaantje who earned 3 World Champion Titles. Our evolving breeding and training operation has expanded to boarding, and we always have a horse on the market, and now enjoy taking a horse or two to a show.
In 2010 Thomas & I ventured onto the show circuit with Sjaantje and sometimes taking yearling, Fancee. What an adventure and learning experience--I looked at each show as being a vacation with horses;-) In 2011 after teaming up with Suzy Stafford, we started to blow the Friesian driving world away--won National Driving Championships and Sjaantje was the USEF high point Friesian driving horse. In 2012, Suzy & Sjaantje entered FEI #9 dressage tests to earn points towards the FPS/FHANA driving predicate title. Click here for that schedule and those results.
Having retired from teaching, I am now able to live my dream 24/7 and give our 5 horses [4 are Friesians] the time they need and deserve!

Sjaantje as a yearling



Click on the crystal bowl
Sjaantje's 2011 IFSHA Anita Mellott
High Point Driving Award

Gail accepting Sjaantje's 2011
USEF Friesian Driving
Horse of the Year award


Use one of the 5 links on the navigation bar at the bottom of this page.
Email Gail & Tom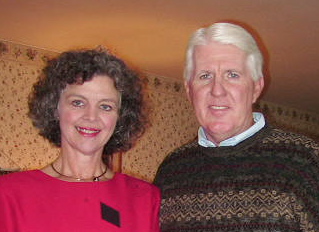 My Friesian Slide Shows--Google PicasaWeb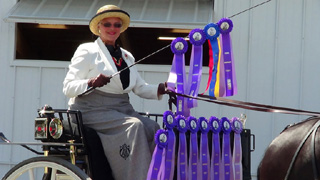 IFSHA Region 2 Championship ribbons
12 driving classes for 11 firsts and 1 second
August 18-19, 2012