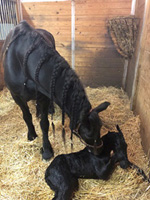 Just born

Due to the worldwide Corona-19 Virus pandemic,
the 2020 keurings have been canceled, so Marlee will first be keured as a yearling



Sired by Hessel and the second foal out of our National and World Champion Sipke 1e driving Sport mare, Isobel Ypkje van het Kasteel, Marlee's full papered breeding, perfect conformation, docile behavior, and sweet disposition will make her an asset in any barn whether for breeding or performance. Marlee has the looks and the movement that the modern Friesian is expected to have: long scopey walk, long legs, prominent neck, beautiful head, and lots of mane and feathering. She was weaned when 5 months old, and is now being offered for sale. Because we are in our 70s, we have decided to end our breeding program, so Marlee will be our last foal.
Handled daily since birth, Marlee is extremely people oriented, easily halters, and leads quietly. Marlee is showing confidence, boldness, and independence, so adjusting to weaning exceptionally well. Not quite 6 months old, we have begun her wash stall and clipper training.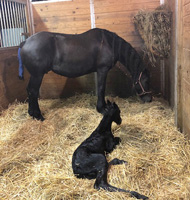 Just born and not yet standing