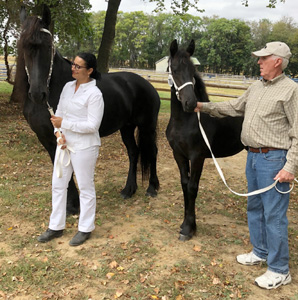 "Dreams Come True Farm"
Jewelee Isobel DCTF
foaled April 15, 2019
Sire: Hessel
Dam: Isobel Ypkje van het Kasteel



On September 30 we went to Coatesville, PA, for the KFPS/FHANA/ISF Friesian keuring, taking our broodmare, Isobel Ypkje van het Kasteel Sport and her April Hessel filly, Jewelee Isobel DCTF. Other than daily handling and leading manners, we didn't do much preparation for her presentation, but she took it all the activity in stride, staying calm and interested in this new experience. Jewelee earned a 3e that day.