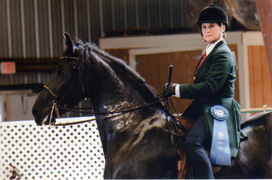 Wietske--blue ribboned at her very first show

April 21, 2012 Frying Pan Park, Herndon, VA

DCTF had another 1st at this show--we took 4 horses from the barn! We brought our 3 YO Teade filly, Fancee DCTF, and our yearling Teade filly, Lillee DCTF, and their Ritse dam, Wiestke Janke V, as well as a friend's 8 YO, Jorrit mare, Octavia von Rey. We were thrilled with our results--Wietske, ridden saddle seat by Cyndi, had a blue and a reserve w/t pleasure championship; Fancee regained her liberty title and also won the ground driving class; little Lillee had 2 red ribbons and more importantly showed us that she enjoyed being at a show. Gloria's mare, Octavia, was the star for Dreams Come True Farm, winning her dressage suitability class and the dressage w/t championship with Jodi in the irons. This show is excellent for green horses and green riders, letting everyone build confidence and have fun.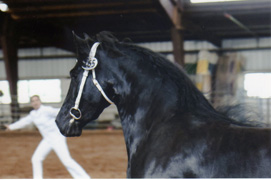 Fancee winning her Liberty class